THE WREXHAM ANGLE
Having won 5 games in a row, Wrexham are aiming to maintain the momentum in a game against opponents we first faced over 100 years ago.
Phil Parkinson will be pleased to see his injury concerns apparently start to ease, with Aaron Hayden and Jordan Tunnicliffe returning to the first team squad last Saturday, alongside Andy Cannon's presence on the bench, the injury he'd picked up at Mansfield 7 days earlier having proved to not be as serious as it looked.
For this match he'll be able to welcome back Paul Mullin from suspension, although James McClean won't be back from his forced lay-off, as he's in Dublin for his international swansong. As Jacob Mendy is also away on international duty, Parkinson will have to wrestle once more with the familiar issue of a lack of available options at wing back.
With Bryce Hosannah and Callum McFadzean unregistered and Ryan Barnett injured, Anthony Forde is the only senior specialist wing back available. Of course, Liam McAlinden has often been used in that position and comes into contention alongside youngsters Dan Davies and Aaron James, who each have one start at wing back this season.
Less likely options are Tom O'Connor and James Jones, who have both briefly filled in at wing back late on as we have chased games or reorganised through injury, but both are currently in fine form in other parts of the pitch and unlikely to be shifted. Jordan Davies has extensive experience at left wing back, but it seems that part of his career is behind him now. Certainly, Parkinson has never used him in that position: the last time he started on the left was against Halifax Town in January 2021 under Dean Keates.
Saturday's comfortable 2-0 win over Gillingham took our winning streak to 5 and our unbeaten run to 11, despite lacking Paul Mullin and James McClean through suspension and plenty of others through injury.
Ollie Palmer's first minute opener set the tone, and Ben Tozer's stylish finish wrapped the match up.
LAST MEETING
THE OPPOSING VIEW
Accrington's season has been over-shadowed by the announcement by owner Andy Holt that he is looking to sell his stake in the club. A charismatic, inspirational charater, Holt has long been the articulate voice of smaller clubs seeking fair treatment from the regulatory bodies and big clubs who set the agenda.He has long been held up by the excellent "Price of Football" podcast as an example of how club owners should conduct themselves, and will a real loss to the game if he does sell up.
October was a terrific month for Stanley, who started it in 16th place with an impressive draw at play-off chasing Morecambe, and then reeled off 5 consecutive wins to climb as high as 6th in the table.
However, they've suffered a little wobble since, losing 1-0 at home to Colchester and 3-1 at Woking. In midweek they went out of the FA Cup, losing 2-1 at home to Doncaster Rovers after extra time.
A gruelling tie took its toll on the Stanley squad, as Joe Pritchard and Ros Longelo both went off injured. Ex-Red Dragon Shaun Whalley and Seamus Conneely also came off, but at least manager John Coleman will hope to have Josh Andrews back from injury, while Brad Hills will return from suspension.
Coleman told the Lancashire Telegraph "We started off OK and had chances to go further in front but they wrestled the initiative off us and ultimately we have lost the game because of a lack of quality from us.
"It hurts to go out like that. I don't think it was a good game. I don't think either team were good. The first goal came from us losing the ball and the winning goal was a carbon copy. We are not learning from our mistakes."
The potential loss of Pritchard is a real disappointment as he has been in outstanding form recently: indeed, he was nominated for the League Two player of the month award which Elliot Lee won last week. He suffered a serious achilles injury in December, but scored on his return in September against Sutton and has gone from strength to strength.
We have to hold our hands up and on the night our lack of quality let us down.

-Accrington manager John Coleman on Tuesday's cup defeat.
HEAD TO HEAD
Accrington's lengthy absence from the Football League and our sojourn in the National League means this ancient fixture - first contested in 1921 - has been on an extended hiatus. Maybe that's just as well for Wrexham, as we're on a poor run of results against Stanley.
We've won just 5 of our last 20 games in this fixture, stretching back to 1955. Accrington won 10 of those games.
Our last match at Accrington, in October 2007, was a rare beam of light in a gloomy season. We won 2-0 thanks to a brace from Neil Roberts, but such away performances were few and far between that season. We only won 4 matches away from The Racecourse that season, one of which was the dead rubber at Lincoln on the last day of the season, played against a backdrop of Wrexham's fans remarkable fancy dress party to commemorate relegation from the Football League.
Indeed, it would also prove to be the last win as Wrexham manager for Brian Carey. He'd suffered an horrendous September as we lost six games in a row, our sixth longest run of defeats, and although the success at Accrington looked like it might be the beginning of a recovery, as it was the second Saturday in a row that Wrexham had won, it would be a false dawn.
We lost 5 of our next 6 games, and a 4-1 thrashing at Peterborough in which we slumped to embarrassing depths – it's mostly remembered for Silvio Spann mishitting a corner straight into the crowd behind the goal – led to Carey's dismissal.
That win at Accrington at least went some way to making up for the humiliation of our match there the previous season. It was our first clash since they dropped out of the league, and was a complete disaster!
Accrington matched their biggest ever victory over us, on Christmas Day 1931, triumphing 5-0 as Wrexham's defence crumbled horrendously and an unbeaten start to the season evaporated. Indeed, our season never really recovered from that beating.
In the 1931-2 season we were offered a swift opportunity to gain revenge for that 5-0 drubbing, as we played them at The Racecourse the next day! Somehow we recovered and beat them 2-1!
We didn't fight back in the 2006-07 season though. Indeed, Brian Carey's predecessor would have been dismissed by our next league match! We lost the return fixture 3-1 on New Year's Day, and Denis Smith departed a week later after a brave 3-1 FA Cup loss at Derby.
At least it's not likely to be dull, as remarkably we've never had a goalless draw against Accrington in 77 matches!
Having only played Stanley 4 times since they went out of business in 1966, the list of top scorers against them has a vintage feel to it.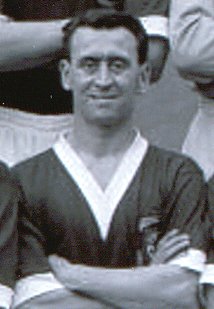 Unsurprisingly it's Tommy Bamford who has scored most past them with eleven, followed by Archie Longmuir on nine, Ron Hewitt (above) and Tommy Bannan on six and Ted Regan on four.
Bamford and Longmuir have evenly shared the four hat-tricks we've scored past them, Bamford hitting four past Stanley in October 1925 as we thrashed them 6-1. Bamford's other hat-trick was the only time a Wrexham player has managed the feat in Accrington, in December 1932, but we still lost out 5-3! Similarly, Longmuir's hat-tricks came in consecutive home fixtures, which ended 5-6 and 5-0!
The 5-6 defeat in October 1925 was only the start of it! Wrexham played Accrington two more times that season, the return game in the league and an F.A. Cup tie, and conceded thirteen goals in the process! The cup match ended 4-0 to Stanley, who also won the return league fixture game 4-2!
The fixture started out with a dramatic contrast between Wrexham's fortunes at home and away. At The Racecourse we won our first four clashes, but we lost our first seven away games and didn't even score at Stanley's home until our sixth game!
Our final visit before Stanley collapsed was back in October 1961 and ended in a 2-0 victory through goals by Micky Metcalf and Wyn Davies. However, Stanley's ejection from the league made the match void. The season before that we registered our best ever result at Accrington, winning 3-0.
Overall at Stanley we've won 10 times and lost 21 in 37 games.
#DataAnorak
The data offers us a good insight into Accrington's approach. Across the board they're at the direct end of the stats, usually the 4th most direct side.
| | | | | | |
| --- | --- | --- | --- | --- | --- |
| | Sequence Time | Passes per Sequence | Direct Speed | 10+ Pass sequence | Bulid Up Attacks |
| Accrington | 21st | 21st | 4th | 21st | 23rd |
Accrington's aggressive front-foot style is reflected in other data. Stanley are top of the league in terms of fouls committed, fouls against, interceptions and offsides. Brad Hills has made the most interceptions in the division with fellow centre back Rosaire Longelo-Mbule in second place.
When it comes to working the goalkeeper, this is a clash between two extremes. Wrexham are second in the league when it comes to percentage of shots on target with 37.9%, while Accrington are bottom of League Two with 30.5%. It's not for want of trying though: Stanley are 3rd in terms of shots per 90 minutes (we're second, by the way).
| | |
| --- | --- |
| | SoT90 |
| Mansfield Town | 19.13 |
| Wrexham | 16.00 |
| Accrington Stanley | 15.06 |
| Crawley Town | 14.56 |
Oddly, considering Stanley's apparent lack of accuracy, they boast the most accurate sharpshooter in the division! Sean McConville has started 4 games this season and scored two goals: his percentage of shots of target (71.4%) is the best in League Two. Interestingly, Jake Bickerstaff lies in equal fourth place in the division.
POTENTIAL MILESTONES
Elliot Lee's 250th league match.
Ollie Palmer's 100th Wrexham game.
Aaron Hayden's 75th Wrexham league appearance.